Banner Image by Michael Leahy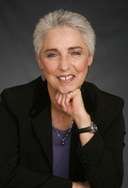 "I get a good feeling every time I cross the Laguna… knowing that I will be making a contribution to preserving this sacred place"
–Sharon Hawthorne



"Leave a true legacy for your children and future generations. One sure way is to include the Laguna de Santa Rosa Foundation in your estate plans. I invite you to join me." –Chris Engel
Download our Legacy Member Brochure for more information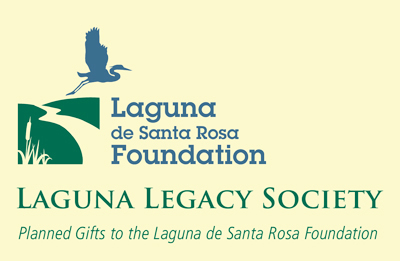 Planned Giving to the Laguna Foundation
The Laguna's wetland complex, habitats and human use are Sonoma County's best and most important opportunity for a natural collaboration: Wetlands, wild animals and people can live and thrive alongside each other. The Laguna de Santa Rosa is a natural legacy for the generations. However, growing human use and development pressure come with a responsibility. For the Laguna to be a healthy, essential resource forever; the Laguna Foundation must also abide and thrive. The Foundation will continue to speak on the Laguna's behalf, restore and steward the Laguna's health and respectfully open the Laguna's wonders for community enjoyment and learning.
Your bequest or planned gift will help ensure the Laguna Foundation's longevity for this ongoing work to protect, restore, and learn from the Laguna de Santa Rosa and to educate the public about the Laguna and its important place in our community's future.
Laguna Legacy Society: Creating a Legacy for the Laguna
We want the Laguna to be a healthy part of our community, forever. Please join us in providing lasting support for the work of the Laguna Foundation in its mission to safeguard the Laguna by remembering the Laguna Foundation in your will or estate plan. Through this simple and effective method, you can contribute to the Laguna legacy and really make a difference. Your gift can be directed for general or specific purposes.
If you'll let us know that you have remembered the Laguna Foundation with a gift via your will or estate plan, we will provide a dignified attribution, invite you to become a honored member of the Laguna Legacy Society and ask you to join us for an exclusive annual outing and personal behind-the-scenes exploration with our staff.
Provide a Plan Gift to the Laguna Foundation.
We would be pleased to discuss some of the options with you confidentially. A charitable bequest is the most common way for folks to remember the Laguna Foundation in their will or trust. You can simply add an amendment, called a codicil, to your will or living trust. Below is suggested language that you should have your attorney review: "I give devise and bequeath to the Laguna de Santa Rosa Foundation (tax I.D.#94- 3155180 located in Santa Rosa, California, the sum of ____ dollars ($____), (or state a percentage of your estate, or describe real or personal property, including the exact location) for the benefit of the Laguna de Santa Rosa Foundation."
The Laguna de Santa Rosa Foundation is a tax-exempt organization. Contributions are tax deductible to the extent permitted by law and in many cases your legacy gift may provide tax and financial benefits for you and your descendents. The Laguna de Santa Rosa Foundation considers your information confidential. We encourage you to discuss your wishes for a charitable planned gift with your personal financial and tax advisors. The above is for informational purposes only, and not intended to be tax or legal advice. Prior to making such a gift to the Laguna Foundation, please consult a qualified financial advisor.
The Laguna Legacy Society Will Have Lasting Impact!
Fund a restoration project that makes a LASTING difference; many of the trees we plant will themselves be alive for hundreds of years and their offspring will live hundreds more!
Fund a year of our Learning Laguna program that provides environmental education about wetlands and the Laguna to 1,500 elementary school students per year.
Establish an endowment to maintain the grounds at our beautiful new Laguna Learning Center so that it stays a true community asset now and in the future.
Your own idea! Give us a call to discuss!
Contact Us
For questions and information on other means of supporting the work of the Foundation and securing the Laguna's future, please contact Sierra Castillo, Development & Communications Assistant at (707) 527-9277 x109 or email: sierra@lagunafoundation.org